Organization Name:
Blood in the Snow Canadian Film Festival
Organization Description:
Founded in 2012 and incorporated in 2015, the Blood in the Snow Canadian Film Festival (BITS) is a unique showcase of contemporary Canadian horror, genre, and underground cinema, that exists to challenge social boundaries, explore artistic taboos, and support and exhibit independent Canadian genre media artists. The organization holds an annual film festival in Toronto that brings together audiences, media, community partners, and the filmmaking industry to exhibit and celebrate Canadian genre media artists. BITS places an emphasis on promoting women in horror, emerging filmmakers, and underrepresented voices in Canadian cinema within the genre realm.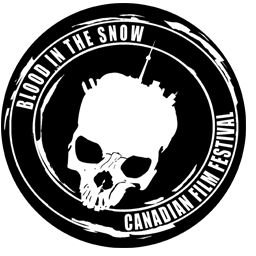 Organization Website Link:
Facebook
Twitter
---
Project Name:
Blood in the Snow 2018 / Blood in the Spring 2019
Project Description:
This application is for "Blood in the Snow / Blood in the Spring 2019" an expanded Festival and a new four-city provincial tour. The Festival takes place November 22 to 27, 2018 at the Royal Cinema in Toronto and the tour takes place March 27 to April 6, 2019 in Ottawa, Kingston, Kitchener and Peterborough. (1) The 2018 Festival will be expanded from four to six days and will include 13 screenings and three industry panels (topics include web series', marketing, and international sales). In addition to their regular program of premieres of Canadian genre films, the Festival will be also introducing a retro program slot that will play the 1983 cult classic "Curtains". Two of the lead actresses (Lesleh Donaldson and Lynne Griffin) will be invited for the question and answer at the end of the film. The venue, the 380 seat Royal Cinema, is located in "Little Italy" and is surrounded by a wide variety of bars and restaurants, making it an ideal location for a small film festival. Projected attendance is 3,900 paid and 1,500 free. Ancillary activities include: (i) "Breakfast with the Stars" at PourBoy; (ii) media day at the Monarch Tavern; (iii) opening and closing night parties at the Monarch Tavern; (iv) industry cocktail party; (v) party at the the Super Wonder Gallery; (vi) an awards ceremony; and (vii) the Festival's first film installation piece called "Offerings", created by BITS alumni filmmaker Torin Langen that will be screened at the Super Wonder Gallery calumniating with a live performance with a musician on the Sunday night of the festival; (2) "Blood in the Spring" will introduce a touring festival to Ottawa (Mayfair Theatre, 343 seat cinema), Kingston (The Screening Room, 125 seat cinema), Kitchener (Apollo Cinema, 308 seat cinema) and Peterborough (Market hall, 350 seat hall). The touring festival will consist of four two-day events that will include a local feature film, an Ontario feature film, a Canadian out of province feature film and a short film program. Each event will be followed by a free after party event. Projected attendance is 3,600 paid and 500 free.
City:
Toronto
Region:
Toronto
Start Date:
2018-10-22
End Date:
2019-04-06
Amount Funded:
$15,000.00