Organization Name:
Toronto Design Offsite Festival (TO DO)
Organization Description:
The Toronto Design Offsite Festival (TO DO) is the largest cultural celebration of design in Canada, with over 80 events and exhibitions taking place across the city of Toronto. TO DO transforms Toronto into a hub for creativity by taking design and art out of the studio and into the urban sphere, bringing people together to celebrate arts and culture. They provide opportunities for emerging talent, and engage the community with exceptional and accessible public programming.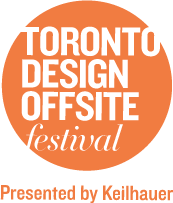 Organization Website Link:
Facebook
Twitter
---
Project Name:
TODO 2019: Anchor Exhibitions and Artist Led Bus Tours
Project Description:
This application is for "Anchor Exhibitions and Artist Led Bus Tours", expanded and enhanced Festival programming taking in place in Toronto January 18 to 27, 2019. The Festival, which will be expanded from seven to ten days to span two weekends, will include two new elements: (1) Anchor Exhibitions, to leverage the large networks of partners, participating designers, guest curators, and nearby attractions, to attract tourists and visitors: (i) a significant expansion of an existing exhibition: "Outside the Box", presented at Harbourfront Centre. The exhibition will see an increase in participating designers from 60 to 100, and participating cities from across North America from 12 to 18. The exhibition will also travel to New York; (ii) Umbra home accessories exhibition featuring new prototypes for the home by 20 designers from across Canada, which is a significant expansion; (iii) a thematic exhibition at the Gladstone Hotel (to be confirmed) scheduled in tandem with their annual design exhibition; and (iv) a series of installations in the Yonge + St. Clair neighbourhood produced by notable architecture firms (to be confirmed); and (2) an artist-led Bus Tour which will visit the four anchor neighbourhoods. Each Bus Tour will be led by a local expert who has extensive knowledge of design and art. Each tour stop will feature a brief tour of the exhibition led by its curator or featured artist. There will be eight half-day ticketed tours, running over Saturday and Sunday on both weekends of the extended Festival dates.
City:
Toronto
Region:
Toronto
Start Date:
2019-01-18
End Date:
2019-01-27
Amount Funded:
$50,000.00