Organization Name:
Bravo Niagara! Festival of the Arts
Organization Description:
Bravo Niagara! is dedicated to defining the Niagara Region as a destination for innovative artistic performances of the highest calibre. Our concerts are multi-sensory experiences and a "Symphony of the Senses" — music, wine, culinary and visual arts — combined with Niagara's natural beauty and historic riches.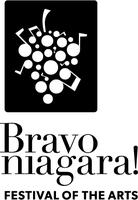 Organization Website Link:
Facebook
Twitter
---
Project Name:
Inaugural Oscar Peterson Jazz Festival & Spring Into Music Series
Project Description:
This application is for the "Inaugural Oscar Peterson International Jazz Festival & Spring into Music Series", taking place at various locations in Niagara-on-the-Lake and St. Catharines from February 16 to may 27, 2018. Tentative programming includes: (A) Oscar Peterson International Jazz Festival, February 16-18. Produced in collaboration with Peterson's widow Kelly Peterson, the Festival will feature one-of-a-kind concerts that pair Canadian artists with international artists. Performances will include: (i) February 16 at the FirstOntario Performing Arts Centre in St. Catharines - The opening night headline concert will be a tribute to "Jazz at the Philharmonic", a series of jazz concerts, tours, and recordings produced by Norman Granz which featured musicians such as Oscar Peterson, Ella Fitzgerald, Dizzy Gillespie, and Billie Holliday. Performers will include bassist Christian McBride, pianist Benny Green, and vocalist Cécile McLorin Salvant; (ii) February 17 at Stratus Vineyards in Niagara-on-the-Lake - Programming will include a lecture by Tad Hershorn, a screening of "Jammin' the Blues" produced by Norman Granz, and a black-tie event which will include a 3-course dinner by chef Stephen Treadwell followed by a concert in an industrial section of the winery featuring two jazz pianists, Bill Charlap and Renee Rosnes. The event will be hosted by special guests Kelly and Céline Peterson, Oscar Peterson's wife and daughter; and (iii) February 18 at Wayne Gretzky Estates Winery & Distillery - The Sunday Afternoon Jazz Club, featuring performances by Canadian artists including pianist Robi Botos, a protégé of Peterson, bassist Dave Young, vocalist Genevieve Marentette, and trumpeter Kevin Turcotte. (B) 5th Annual Spring into Music Series at Stratus Vineyards and St. Mark's Anglican Church. Performances will include: (i) March 10 - Pianist Jan Lisiecki will perform a solo recital; (ii) March 11 - A free solo recital by the The Bravo Niagara! Emerging Artist Winner followed by a master class by Jan Lisiecki; (iii) April 27 - Cellist Denise Djokic will perform a program of Bach in a multi-disciplinary presentation that includes film and visual projections and a solo performance by pianist Tony Yike Yang; (iv) April 28 - Jazz piano prodigy Brandon Goldberg will make his Canadian debut; (v) May (tba) - Violinist James Ehnes will perform a solo recital; and vi) May 27 - A solo performance by jazz/pop pianist Emily Bear. Partners include the Estate of Oscar Peterson, TD Canada Trust, Yamaha Canada, Jazz.FM91, Vintage Hotels, Stratus Vineyards, Wayne Gretzky Estates Winery & Distillery, FlyGTA Airlines, Yamaha Canada, CIBC, Classical FM, and FirstOntario Performing Arts Centre.
City:
Niagara-on-the-Lake
Region:
Southwestern Ontario
Start Date:
2018-01-16
End Date:
2018-05-27
Amount Funded:
$15,000.00