Organization Name:
Toronto Summer Music Festival
Organization Description:
The Toronto Summer Music Festival is an international summer Festival and Academy which presents concerts with world-renowned artists and provides instruction at the highest level for emerging professional musicians, thereby creating a unique environment for exceptional artists and music-lovers of all ages.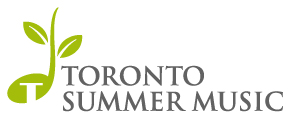 Organization Website Link:
Facebook
Twitter
---
Project Name:
True North Strong and Free - The Sesquicentennial Festival
Project Description:
This application is for "True North Strong and Free - The Sesquicentennial Festival" that will take place from July 13 to August 5, 2017 at various venues in downtown Toronto including Koerner Hall, Walter Hall at the U of T, and the Heliconian Hall. This will be the first season under the direction of the their new Artistic Director Jonathan Crow. The 2017 Festival will include: (1) 12 mainstage evening concerts including the St Lawrence String Quartet, James Ehnes (two performances), Soile Isokoski in recital, the TSO Chamber Soloists, the Rolston String Quartet, the National Youth Orchestra of Canada (a free concert at Koerner Hall to celebrate Canada 150), Canada's All-Star Orchestra, the Canadian National Brass Project (a free outdoor concert at Yonge Dundas Square, and a Canadian chamber opera (Claude Vivier's Kopernicus); (2) a new Children's series which will consist of three free Wednesday morning concerts; (3) Free Academy Outreach Concert Series. Six lunch hour outreach concerts featuring TSM Academy Fellows; (4) Festival Artists & Academy Fellows Concert Series. 10 concerts featuring Academy mentors performing along side the TSM Academy Fellows; (5) OLG Shuffle Concert Series. Nine pay-what-you-can concerts at Heliconian Hall featuring: Jane Bunnett & Hilario Duran (Cuban Jazz Duo), Autobahn Modern Jazz Trio, Lucas Harris (solo lute), Shane Cook Trio (traditional folk), Dora Keogh Irish Party (Irish session with pipes), Erin Cooper-Gay and Black Market (voice, lute, violin, french horn), Roberto Occhipinti Trio, and Jayme Stone's Lomax Project (Banjo, World, and Americana); and (6) Two Audience Engagement Initiatives: (i) Festival Insiders Events (20+ free daytime events featuring films, masterclasses, open rehearsals, artist interviews and more); and (ii) Community Academy (whose goal is to provide non-professional adult musicians an opportunity to learn and make music together).
City:
Toronto
Region:
Toronto
Start Date:
2017-07-13
End Date:
2017-08-08
Amount Funded:
$50,000.00