Now Open!
Included with Museum admission
Experience the collision of science and art in Carbon 14: Climate is Culture.  Scientists, artists and cultural informers join forces to investigate the issue of climate change in this engaging and thought provoking exhibition.
_____________________________________________
Produced by Cape Farewell Foundation in partnership with ROM Contemporary Culture.

We are Culture
We Are Culture brings the MT Space and Neruda Arts together to produce 2 festivals, and 7 independent theatre & music events.
It's not too late to get tickets to Huff!
Tickets are still available for Huff, a solo performance that combines First Nations mythic storytelling, dark humour and vivid imagery. See it in Kitchener before it opens at Ottawa's National Arts Centre in spring 2014!
"It reaches inside and grabs you so hard that you forget it's make-believe. It makes you rethink what you thought you knew. It leaves you transformed." – 5/5 Stars -CBC (Chandra Mayor)
WHEN: October 10-12, 2013 at 8pm with a 2pm matinee on October 12
WHERE: The Courtyard Studio @ Bonnie Stuart, 141 Whitney Place, Kitchener
COST: $20 General Admission / $15 Student/Senior
*Seating is limited so buy early*
Tickets available at TicketScene.ca
or call 519.585.7763
Join We Are Culture The Movement
Watch the Video, Learn More or DONATE NOW!
We only have 41 days to reach our goal.
We are grateful for donations of all sizes and appreciate the generosity and commitment to enabling creative expression of all those who choose to get involved with We Are Culture.
For more information, please contact us:
By phone: 519.585.7763
By email: info@mtspace.ca
Or visit: www.mtspace.ca / www.weareculture.ca
———————————————————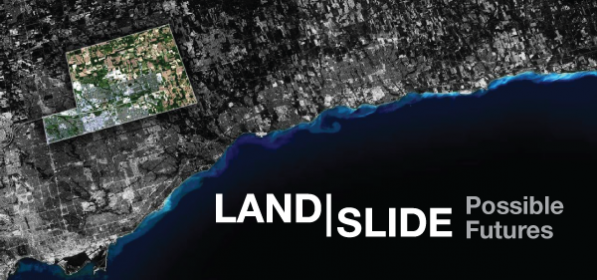 Land|Slide Extended Trailer from Land|Slide on Vimeo.
This week at Land|Slide Possible Futures
Land|Slide Possible Futures is excited to share a weekly round-up of programming and events happening during our exhibition. In addition, there will be food and drinks available in the Museum's Transportation Hall on Saturdays from 4PM – 10PM.
Free and open to the public, Land|Slide Possible Futures runs until October 14. Complimentary buses run every weekend from the Museum of Contemporary Canadian Art (MOCCA) located at 952 Queen St. W. For gallery hours, directions and a full list of events, visit our website.
LANDSLIDE SATURDAY NIGHT FILM SERIES
Sat Sept 28, 7-9PM
Location: Transportation Hall, Markham Museum
This Saturday September 28th, join us for "Burning Down the Suburbs", the first evening in our three-part Saturday Night Film Series. The selected films explore concepts of home, suburbia, family, and community from a variety of angles, taking these themes as sites of critical reflection and as spaces of experimentation. More details regarding this Saturday's films are available here.
The Land|Slide Saturday Night Film Series features an eclectic mix of experimental and documentary film screenings that cover a cross-section of contemporary techniques and processes. The films are programmed by Scott Birdwise, Clint Enns and Sanja Obradovic.
POSSIBLE FUTURES PANEL SERIES
Sun. Sept 29, 5-7pm
Location: Transportation Hall, Markham Museum
The panel series brings together community stakeholders, local experts, and Land|Slide artists to debate and discuss the core themes of the exhibition and of possible futures in Markham. This Sunday September 29, join us as we tackle the question "How is hunger a sustainability issue?"
Moderator: Chloë Brushwood Rose, Associate Professor, Faculty of Education, York University
Panelists include Brenda Hsueh, Owner and Operator of Black Sheep Farm, Community Supported Agriculture (CSA) vegetable farmer, and runs a local food procurement project for the City of Thunder Bay; Valerie Tarasuk, professor at the University of Toronto in Nutritional Sciences, and Principal Investigator of PROOF, researching food insecurity and policy options; Joan Stonehocker, Executive Director at York Region Food Network, which promotes food security through community gardens, kitchens, support programs for organizations and shelters, and many more programs in Markham and across the York Region; and Evelyn Encalada, Teacher, researcher, and founding member of Justicia/Justice for Migrant Workers, which works with seasonal agricultural migrant workers in Canada.
Complete details on the panel series are available here http://www.landslide-possiblefutures.com/
ARTIST TALKS
This week between Fri. Sept 27 – Thurs Oct 3 our artist talks are as scheduled:
Friday Sept 27
12:30 – Allyson Mitchell
1:30 – Deirdre Logue
2:30 – Glynis Logue
Saturday Sept 28
1:30 – Ali Kazimi
2:30 – Christine Davis
7:30 – Mark-David Hosale
Sunday Sept 29
1:30 – Marman & Borins
2:30 – Angel Chen
3:30 – L+: Pak Sheung Chuen + Ng Ka Chun + Lee Soen Long
Thursday Oct 3
1:30 – Phil Hoffman
FREE BUSES
Every weekend, Land|Slide offers complimentary bus rides from Museum of Contemporary Canadian Art (MOCCA), (952 Queen St W, Toronto) to the Markham Museum (9350 Markham Road, Markham).
The schedule for this Sat Sept 28, is as follows:
MOCCA to Markham Museum: 2PM*, 5PM
Markham Museum to MOCCA: 6:30PM, 10PM
To ensure a spot, please RSVP to info@landslide-possiblefutures.com. More details and a full schedule is available here.
*On the 2PM bus, L+ will be engaging riders during the commute.
———————————————————————-
The Pan American Food Festival begins Friday September 20, and runs through Sunday September 22. Click here to visit their Facebook page and see their promotional video.
————————————————————————
MIKE MYERS, CARLY RAE JEPSEN AND
MARTIN SHORT AMONG STAR-STUDDED LINEUP OF PRESENTERS AND PERFORMERS AT THE 2013
CANADA'S WALK OF FAME AWARDS
The 2013 Canada's Walk of Fame Awards Airs
Sunday, October 27 – 8pm ET/PT on Global
For additional photography and press kit material visit: http://www.shawmedia.ca/ and follow us on Twitter at @ShawMediaTV_PR / @GlobalTV_PR
For Immediate Release
TORONTO, September 17, 2013 – Mike Myers, Carly Rae Jepsen and Martin Short are among the superstar celebrities taking centre stage at the 2013 Canada's Walk of Fame Awards. The star-studded, not-to-be-missed 2013 television event celebrating this year's inductees and 15th Anniversary of Canada's Walk of Fame, will air on Global on Sunday, October 27 – 8pm ET/PT.
"This year's phenomenal roster of celebrity presenters and performers are guaranteed to captivate and entertain viewers," said Barb Williams, SVP, Content, Shaw Media. "Shaw Media is honoured to be part of this prestigious Canadian cultural event, celebrating truly remarkable individuals who inspire us all."
The prestigious list of celebrity presenters at the 2013 Canada's Walk of Fame Awards includes superstar Mike Myers, Gemini Award-winner Martin Short, TV superstar Joanna Kerns, Academy Award® nominee and Grammy® Award-winner David Foster, shock-rocker Alice Cooper, JUNO Award-winner Tom Cochrane, JUNO Award-winner Hedley's Jacob Hoggard and Canadian iconic sportscaster Brian Williams. Plus, a special taped induction message from Grammy® Award-winner Diana Krall honouring Oscar Peterson. Taking to the stage for special musical performances are Carly Rae Jepsen, The Tenors, and Tom Cochrane. Viewers are in for an unforgettable night as the 2013 Allan Slaight Award recipient, Carly Rae Jepsen, receives her award from pop megastar Justin Bieber and Scooter Braun via an exclusive taped presentation.
Download Full 2013 CWOF Press Release
——————————————————————————-
September 5, 2013 – NEWS RELEASE
LONG LIVE THE NEW FLESH: THE CRONENBERG PROJECT
Additional details announced for The Cronenberg Project, including major exhibition David Cronenberg: Evolution, art exhibition, two film programmes, special guests, eBook, digital extension and virtual museum.
Toronto – Piers Handling, CEO and Director, TIFF and Noah Cowan, Artistic Director, TIFF Bell Lightbox along with David Cronenberg came together this morning at a press conference held at TIFF Bell Lightbox to unveil exciting new details of The Cronenberg Project. Included in the announcements were the full film retrospective and sidebar film programme, eBook and a selection of special guests and events. The Cronenberg Project, TIFF's multi-platform celebration of Cronenberg's work, will have its world premiere at TIFF Bell Lightbox from November 1, 2013 to January 19, 2014. Additional details for the original film exhibition David Cronenberg: Evolution, digital-experience extension Body/Mind/Change, visual art exhibition David Cronenberg: Transformation, the David Cronenberg: Virtual Exhibition and original publications that comprise The Cronenberg Project were also announced.
TIFF's first original major touring exhibition—and the core component of The Cronenberg Project—David Cronenberg: Evolution parallels David Cronenberg's evolution as a filmmaker with his ongoing examination of human evolution. The exhibition will be divided into three major sections that, through props, costumes, audio-visual elements and behind-the-scenes footage, trace thematic developments across Cronenberg's cinema while exploring sub-themes of sexual control, personal identity and Cronenberg's relationship to science and science fiction. The first section, titled Who Is My Creator?, comprises Cronenberg's earliest works, from Stereo (1969) to his breakthrough film Videodrome (1983), and examines his protagonists' search for father figures within the worlds of science and technology. Who Am I? looks at Cronenberg's "middle period" from The Dead Zone (1983) to eXistenZ (1999), as characters seek control of their own identities and divided selves, and experiments with their own bodies. Who Are We? takes these protagonists out into the world, examining both their psychological and physical relationship to family, friends and society, from Spider (2002) up to Cronenberg's most recent film with Cosmopolis (2012).
Other newly announced highlights include two subsections of David Cronenberg: Evolution, offering audiences the chance to step inside the world and mind of David Cronenberg. At the exit of the exhibition will be a special viewing area where short films by David Cronenberg will be screened; and inside the exhibition, there will be a special space devoted to Naked Lunch—including a recreation of the film's famous bar, complete with Mugwump—in part as a tribute to William S. Burroughs and other 20th century artists and thinkers that have informed and inspired Cronenberg's work.
"As the international community turns its attention to Toronto for the Festival, we are thrilled to share a piece of our legacy with David Cronenberg, one of the world's greatest living filmmakers and someone who represents Canadian cinema at its very best," said Piers Handling, CEO and Director, TIFF. "TIFF has grown and evolved alongside David for over three decades, and with The Cronenberg Project we celebrate David's history while also moving forward into a new era for TIFF Bell Lightbox with our first large-scale, original touring exhibition."
Download full TIFF Cronenberg Project Press Release