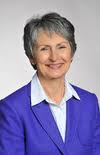 Originally from Manitoba, Lucille Roch moved to Ontario in 1991, via Montreal, Quebec where she worked for the Government of Canada.
Joining the Ontario Public Service as a senior analyst in Cabinet Office, she was later appointed Assistant Deputy Minister in several ministries including, Community and Social Services, Citizenship, Culture and Recreation and Children and Youth Services. She was appointed Deputy Minister in 2005, initially in the Ministry of Culture, then to the Ministry of Community and Social Services. She was also Deputy Minister responsible for the Office of Francophone Affairs.
Retiring in 2009, Lucille moved to Stratford.
She is a member of the Board of Directors of the Ontario Trillium Foundation, the Canadian National Institute for the Blind and the Stratford Summer Music Festival. Lucille joined the OCAF Board of Directors in 2012.